I created the photo-collage studies above as part of a birthday card for my sister earlier this year by re-positioning portions of black and white photos taken by photographer Steve Mulligan.
Jasper Johns' Something Resembling Truth is currently on display at the Royal Academy of Arts near London Piccadilly, featuring works which explore the inherent visual form of familiar icons and symbols such as numbers and the US flag through repetition and decontextualisation.
In many ways, Johns' work represents a visual analogue to the output of Musique Concrète composers like Pierre Schaeffer. These artists developed a philosophy around acousmatic listening – appreciating the timbral qualities of every-day sounds independent of expectations prompted by our contextual understanding of them. One of the earliest examples of this is Schaeffer's Étude aux Chemins de Fer, a sonic collage of sounds produced by trains.
I am also reminded of a literary equivalent to this concept, that of the cut-up technique outlined by French-Romanian poet and performance artist Tristan Tsara in the Dada Manifesto:
TO MAKE A DADAIST POEM
Take a newspaper.
Take some scissors.
Choose from this paper an article of the length you want to make your poem.
Cut out the article.
Next carefully cut out each of the words that makes up this article and put them all in a bag.
Shake gently.
Next take out each cutting one after the other.
Copy conscientiously in the order in which they left the bag.
The poem will resemble you.
Again, the creative process produces a new work from familiar material, obscuring its original meaning and subverting it through decontextualisation. Since April I have been writing nonsense poetry using a modified form of Tsara's process, reassembling messages I have sent and received via Facebook. I will be posting samples of this in an upcoming blog post. I wrote about American writer William S. Burroughs' use of cut-up technique in a previous blog post here.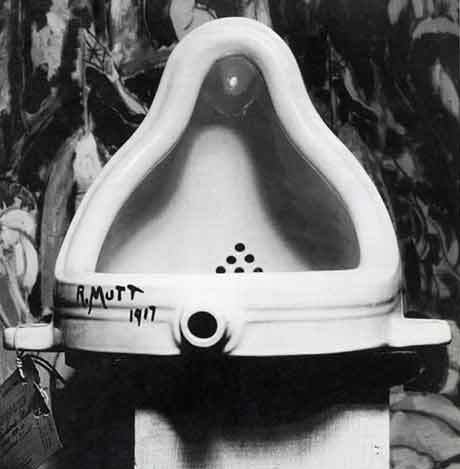 Speaking of Dada, I would be remiss in not mentioning French artist Marcel Duchamp and his seminal 1917 piece Fountain in which he invites the observer to find beauty and artistic value in the shape and form of a urinal, much like Johns' numbers and flags. It is also on display at the Royal Academy of Arts as part of an exhibition of Duchamp and Salvador Dali's work.
Their message is reminiscent of Canadian philosopher Marshall McLuhan's writings on the relationship between visual perception and our understanding of what we are seeing. McLuhan argued that the balance of the prevalence of our senses is profoundly affected by the media and technologies we consume. He believed that prior to Gutenburg's invention of the printing press in the 15th Century and the subsequent spread of literacy, people were far more ear-oriented than today, their primary means of conveying and receiving communication being oral. Ironically this meant that their level of visual acuity was better than our own. Without the influence of internally-stored standardised imagery – such as typefaces or mass-produced iconography – they had only the actual visual light input from their surroundings from which to construct an image in the mind's eye.
For us, a glance at Fountain is enough to inform us we are observing a urinal. At this point, memory-based expectation takes over and the actual image we have perceived becomes entangled with the retinal imprints of every other urinal we have ever seen, leaving us with a stylised, cartoon-ish impression of the actual object. In McLuhan's words, we 'attempt to read our surroundings', seeking uniformity. Duchamp urges us to bypass this obscuring of our perceptions and observe the form, the curvature, the ruts, grooves and circular motifs of the object. A urinal is a symbol, a cipher for a shared concept of functionality. Fountain, though a urinal, through being removed from its functional context, is a sculpture, an art object.
Using my Monochrome Studies as a model, I have attempted to incorporate the ideas I have outlined above of McLuhan, Duchamp, Tsara and Johns into the creation of the Reconstituted Plantscapes below. These are made by cutting up my own photographs and reassembling them to obscure their subject matter and create works of art in their own right.